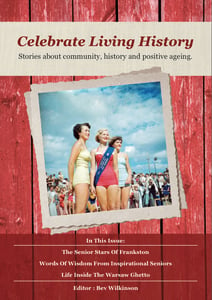 $

5.00
The Celebrate Living History e-magazine showcases positive stories from the seniors of Frankston, Mentone and the Gold Coast.
Some of the well-known characters and community groups featured include:
Mentone Probus
Enid Wagstaff
Peter Jones
Frankston High School Reunion
Georgia Anderson
Lorraine & Ken Holt and Lesley Clapperton
Bill Underwood and Alan Ross
Christine Mullen
David Jensz
John Fourte
Dick Allchin
Allan & Dorothy Johns
David Bilton
Frankston Residents
Gail Dudeck
Dorothy Dempster
William Buckland
Michael Barrett
Glenda Vineer
Clarise Artis
Bob Seers
Sylvia Meehl
Bruce Petrie
Inspirational Seniors
Don Alexander
Aunt Olga-Jewells Black - Brighton, Victoria
Marion Wheatland
Sisters Ann Turner and Denise Maguire
Griffith University Stories
Eight Long seconds By Jamie-Lee Dwyer
Norma Teys By Helana Tulloch
Thanks to the AMAZING Tanya from Batdesign this magazine was launched at the Celebrate Living History of Frankston exhibition on Sunday 14 October 2012 at Bartiste in Frankston.
Provide your email address to have your very own digital version!